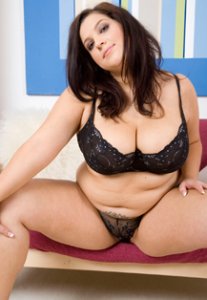 I really wasn't in the mood for socialising, but I promised my gal pal Daria that I would attend a small gathering with her. Anyways, being the voluptuous BBW Enchantress that I am, I put on the most form fitting dress that I could find. I made sure that the girls (my huge boobies) were propped up, and proud! Oh, I decided not to cage them into a bra either. I felt rather insatiable, so topped off my seductive attire with my shiny red gloss.
There were more than I expected at this so-called gathering. My senses heightened when I noticed all of the single cocks that I could potentially play with. I was on my third drink when Robert approached me. I didn't know him all that well. We were introduced earlier that night as an excuse for Daria to casually wander off for reasons of her own. His name was Chad. Back to Robert. He was a sexy specimen. Tall, with an athletic build. I could tell he would be able to lift me if the situation ever called for it, and that earned him even more points with me.
We snuck off to the balcony to have a quiet chat. There was plenty of heavy flirting going on as we both indulged in all the available wine and spirits. He began to tell me how much he enjoys voluptuous women with even bigger breasts. I already had a tingling sensation, but his words intensified the feeling. I asked him what he could do with them, as they can be a bit much to handle. He gave the perfect reply, "Let me show you!"… Instantly this long serpent of a tongue slithered out of his mouth and started to lick on the outside of my dress where a hard nipple had been inviting him. His hand fondled the other breast with such creativity that I creamed even more in my knickers. I felt that a fuck was most appropriate.
As he licked and sucked on my ample bosom, I straddled him rubbing my wetness against his hard cock. I rode him nice and slow as he gripped my big arse holding it still while pumping deep and hard. The excitement of getting caught added to the thrill of course. He began flicking his tongue with a vengeance against my nipple as he thrust his pipe inside of my walls. I could no longer contain myself once he gave my sensitive nipple a long, wet suck allowing me to see his tongue in action. It was then that we both climaxed. I've never felt like such a vixen, and this wasn't my first spontaneous encounter by far. I gently eased myself up after thanking him with a sensuous kiss. It was definitely time to go while I was still feeling good! It was a good move leaving the way I did. I'll see Robert again among our circle of friends, and the anticipation from waiting lets me know that next time there's no holding back!
Ann-Marie is a BBW that will keep you cumming back for more if you're nasty! Tell her how you would handle all of her voluptuousness. Contact her HERE!