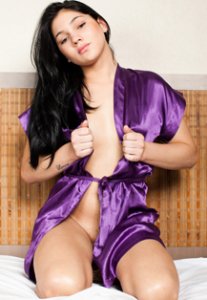 He really asked if he could touch it!
I'm confident, but still shy when it comes to letting someone new in my life. Guys play games, and I just don't have time to waste. We talked a bit longer on my loveseat, and he stroked my hair. "What gives you pleasure? What makes you feel good? I'll do anything to you." It's safe to say that I immediately loosened up. "I like to have my cock sucked!" Like a slave obeying his master he gently pulled out my cock. He stroked it slowly. I teased my nipples just for him to see. He let out a moan, which hardened me even more.
He eased down in between my legs and the tip of his tongue circled the head. Damn, it felt ever so heavenly. "Suck it Baby!" He gave a devilish grin as his mouth closed around the head, and slipped up and down all 8 inches of my dick. I wanted more! I pulled him up by his hair, and kissed him so fiercely that I shocked even myself. "FUCK me!"
We continued to kiss as he removed his trousers. Our lips locked as his cock slowly entered my arse. He pumped in and out, with his mouth traveling all over my breasts. This man was so talented. He knew just how to move inside of me.
He rolled me onto my stomach giving me the pleasure that I've been missing. He made me feel like I belonged to him. I was his property! "Cum in me, give it to me!" He grinded himself all the way into me balls deep. We both lost control and came with fury! Every drop of his love filled me up, and I was beyond satisfied.
I think I may have found my new best mate. All jokes aside, I still have a lot to learn. I will however keep this one around for a while.
Nita isn't as innocent as she portrays herself to be. Cum and play her game if you think you can handle her.
Find out for yourself how she likes it.