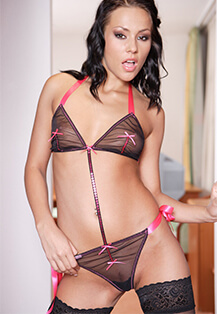 I usually go out on the weekends with my friends, but I decided to stay in this time around. I think my studies combined with working had me more stressed than usual. Maybe I just needed a good fuck! Even a small orgasm would've put me in better spirits lol. That's when Andrew came to my mind.
Andy, as I call him, is a pal of mine. We've never courted or anything meaningful. We haven't even fucked, but there's something that keeps us bonded….sexting! By the way, Andy's married!
I cut right to the chase, and requested a photo of his cock. At first I got "LOL" as a reply, but it was quickly followed by a photo of his semi hard cock. You see, that's Andy's way of telling me that he needs my assistance. I scooped an ice cube from out of my glass, and circled my nipples with it until they were camera ready. I knew he would be pleased. "Mmmmm" he replied. I immediately thought about him grabbing his cock, squeezing out the precum, and rubbing it around the head. I started to tease my clit by flicking it on the outside of my knickers. It's most fitting to let him see the results. After sending the photo, I couldn't stop playing with myself. My fingers were glazed with my juicy goodness. My next text was a bold move. "I want you to hear me explode. You don't have to say a word. Just pretend that you're listening to music. Can you handle that?" I was nervous after a few minutes passed. I wondered if I had overstepped boundaries. As I started to feel guilty, "Ok" appeared before my eyes. My feelings quickly turned into anticipation.
One minute later, my mobile began to vibrate. Knowing it was Andy, I answered. I could hear him breathing, and I started to moan. I thought about him sitting there in the view of his wife trying to contain himself. I thought about him wanting to wank off, but not being able to grab his cock. These naughty thoughts threw me into a frenzy. I moaned louder. I told him how good my pussy felt, how wonderful it would feel to bounce on his cock. I told him that I was thinking about his tongue running across my nipples in place of the ice cube. "Oh Andy, I'm about to cum for you! Listen to me explode. Think about me tonight when you fuck her. Think about my tight, wet pussy that we know you want. You want it, don't you Andy?" As I orgasmed he let out a long sigh, and then he was gone. All I wanted to do was relieve some stress, and I did just that. Thanks Andy!
Lexy knows how to get exactly what she wants. Are you looking for some hot, wet, unapologetic fun? Cum, and see if you're up to Lexy's standards. She'll have you begging for more!