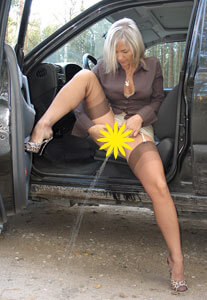 I had been driving for hours and it was still at least three more hours until I was home, but my bladder was full and I needed to piss really bad. I pulled over at a nearby parking lot and there was only one other car there.
I walked to the bathroom, but they were out of order, and I was about to fucking piss myself, so I walked back over to my car and decided to drop my drawers and pee right there. I hiked up my skirt, pulled down my pantyhose and took a second to look at my pussy. I had to piss and that just made the sensations as I touched my clit that more sensitive. I'm such a bad piss slut!
I started to piss and noticed the other person in the other car staring at me as I peed. The thought of him watching me got me so hot. I was a little scared when he walked over to me, but that turned to arousal when he asked me to piss on his cock. I thought why not, he looked pretty good looking and when he pulled out his cock, oooohhhh impressive…it was 9-inches of rock hard man meat. I couldn't wait to take that into my piss slut pussy!
I pulled down my pantyhose further until they were around my black boots and he lay on the ground beneath me. I let my warm stream flow on his cock as he stroked it. hhhhmmmm watching my piss cover him made me even hornier…mmmmhhh, now I just had to have his piss covered cock inside me!
I pulled up my pantyhose and lay in the back of my car, letting him get a good look at my panty covered pussy. My pantyhose were drenched in a mix of my own piss and pussy juices. He got up and walked over to me. His cock was still wet with my piss, but I didn't care as I took him into my mouth. Oooohhh, hhhmmm my piss on his cock tasted sexy sweet mmmhhhh…The back of my throat tickled as his tip touched the back and with my other hand, I caressed his balls and my pussy got wetter and wetter. Ooohhhh this was total filth and I was fucking loving it….hhhhmmmm…
I sat back in the back of my car again and gave him a little show. I pulled on my red panties over my pantyhose, covering up the hole he wanted to fuck so badly. There were two layers he needed to get through. When I couldn't take it any longer, I pulled down my pantyhose again and let him see my wet pussy. I spread my pussy lips, telling him it's time to FUCK his dirty piss slut!
Aaaahhhh, mmmmmhhh…I played with my pussy – finger myself whilst rubbing my clit as he stroked his hard cock in front of me. Ooooohhh yeah baby, stroke it baby yeah, that's right, hhhmmmm yes, yes, ooohhh YES hhhmmmm oh yyyeessss…!!! I screamed as I came. I wanted his cum and I wanted it NOW. I lifted my legs so he could have an unobstructed entrance. My pussy was dripping as he first thrust his cock into me. The car rocked back and forth with each push until he pulled out and I accepted his load into my mouth. MMMmmmhhh – now, that's what I call instant relief.
Get chatting with birds that are just begging for a guy to release on them! Call piss-soaked slags now and get your kink on!