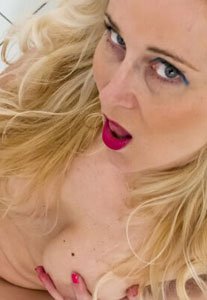 How would you like to hear about my latest femdom phone adventure? I recently had a very pleasurable experience with a shop assistant I like to play with now and then. He likes me to do things to him when I'm in my naughtiest, most dominant mood.
One night while I was lying on my sofa thinking about fucking, the phone rang. It was my favourite shop assistant, complete with a big hardon and respectful tone of voice. I was that surprised! He was practically whimpering, so eager to please me he was. I told him to relax in a firm voice and started to guide him in the direction I wanted him to go.
I told him in my sultry voice to be a good little man and rub his dick for me. He started to stroke; I could hear his voice getting raspy as he said, "oh Mistress, I'll do anything for you!" I told him to assume the position for his femdom. He knew right away what I meant, because he's a total sucker for being fucked by a big strapon cock. I told him to imagine me, retreating to my dressing room for a few minutes and returning with nothing on but a leather corset and a big strapon dick. The corset shows off my 36D tits to good effect, and the big plastic cock works wonders on a sub.
I never allow a man to cum for his all-powerful femdom until I've put him through his paces, so to speak. I had him worship my tits, imagining I allowed him to touch and caress them. I made him slowly worship every inch of my body, finally slipping his tongue inside my wet cunt. I directed him to slow up on his stroking, because I was not ready for him to be finished. How I love having power and control over a man!
I commanded that he suck my big cock. I imagined it pressed against his lips, his tongue slipping out to lick the shiny head. I progressed to having him imagine me, his wonderful femdom, pushing the whole cock into his mouth. He sucked at it eagerly. He was breathing very hard, but I was not letting him cum yet, no matter how much he begged. Finally, he begged me to give it to him, so I slid the head of that fat cock up and down and teased his arsehole with it. I slipped it inside him and told him to imagine that he felt the head, slipping inside to open him up a bit, then the rest following. I bent over him and rubbed my tits all over his back as I pushed that big strapon all the way up inside of him. He let out a loud gasp and I knew he was stroking and ready to cum. I can't even tell you how much the power thrills me; I found myself wetter than ever before!
If you'd like a kinky experience with a very naughty femdom MILF, just call or text me!