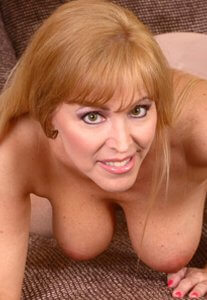 It was supposed to be a naughty weekend up in Bogner Regis with my hubby. We were going to fuck like wild animals and I had been preparing my lonely MILF pussy all day for it. That was until I found out I wasn't the only one he was fucking.
My pussy was wet and wanting, so I decided I was going to go ahead and take the trip anyway. I went to the store and bought some hot slutty clothes and checked into a hotel. I tried on this saucy white number that really showed off my tits, but it was the red bra and panty set that wet my pussy even more.
While I was putting on this black dress, I hiked up my skirt, and my underwear was drenched in my pussy juice. 'hhhhhhmmmmmm I'm ssssoooo horny….' I needed a release before I went out, so I took off my dress and stared at my tits, rubbing them and pinching my nipples until they were erect. I pulled my black underwear tight against my pussy until it rubbed against my clit.
The feeling of it sent shivers through my body. 'hhhhmmm, aaaaahhh'. I took off my underwear and laid on the bed naked. I rubbed my pussy and felt its wetness. I licked my fingers, and I tasted so good. I wanted to cum ssssooo bad. I started fingering my wet lonely MILF pussy and letting that feeling build. I rubbed my tits and covered them in my juices. 'oooohhhh, aaaaahhhha, hhmmmm'. My hips bucked against my fingers as the orgasm ravaged my body. I moaned so loud that I didn't hear the knock on the door.
My fingers were still wet with my juices, and I laid on the bed spent. The door opened and the porter walked in with the luggage. He was as shocked as I was and immediately apologised, but I could see him trying to get a good look at my pussy.
I was still so fucking horny and my pussy wanted a good fucking right then and there, so when I got up and walked over to him, throwing the suitcases to the ground. I pulled down his pants and felt his cock hardening in my hand. I threw him on the bed and took his cock in my mouth, licking the tip. 'mmmmmhhh give it to be baby, give it to me HARD…!'. Oh how it felt so good to have someone besides my husband in mouth.
I sat down on the bed with my arse in the air and pussy high, letting him know that I needed to be fucked. He slid his cock in effortlessly and moaned as he slowly fucked me from behind. 'ooooohhh, aaaahhh, hmmmm that feels amazing….'. He began fucking me faster and harder until both our bodies were covered in sweat. 'hhhmmm I'm cumming, I'm cumming hhhmmm'. I could feel his balls ramming against me as I once again came so hard. My whole body shook and my muscles gripped is cock like a vice until he came inside me.
He put on his clothes and walked out with a good tip. I put on my sluttiest outfit still feeling his cum dripping from my pussy and went out ready to take on the night.
If you want to find a ready and willing lonely MILF to text and share dirty pics with, then contact them now and get MILF text sex. These naughty cougars are ready to pounce so don't keep them waiting!